Ink patina - Antique Finish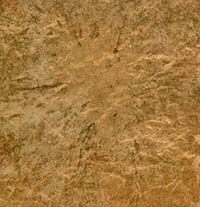 Ink Antiquing is a method of attaining a beautiful patina on water gilded gold leaf. Lightfast ink is added to water size and water gilding proceeds as normal, the resultant gild is therefore tinted. The ink I have been using, Dr. Ph. Martin's Perma Draft, is a waterproof and lightfast drawing ink, although other brands of drawing ink will work as well.
The gild is not bright like standard water gilding but is a slightly dulled satin finish. The colour finds and accentuates all the tiny wrinkles and pinholes inherent in leaf. You can see the texture imparted to the leaf from its beating as well as the laplines. I sometimes deliberately try to get the gold to wrinkle up when ink gilding so as to increase the textural look.
Method

Make up a very strong solution of water size. One capsule to 40ml of water.
Add several drops of ink of the appropriate colour. You can add as much as several squirts from the eyedropper for strong, dark tinting.
Test the strength of tinted size by wetting the glass. It should appear fairly strongly coloured as only a small amount of size is left under the gold after it flows away, it also tends to dry lighter. Place a piece of leaf onto the size, float with more size for full colour and allow to dry.
Make your judgement of the hue, chroma and tone and adjust the size if necessary. You have to be careful the tinted size doesn't ruin any other surface or carpet underneath a window when it runs down the glass.
Gild, backup and clean as usual.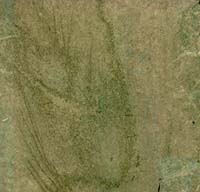 My preferred colour is 70% brown (chocolate mousse) with 30% black for a beautiful warm antique finish as shown above. Muted green colours also work well, in fact any muted dark colour. I have tried using watercolours but they don't have the same tinting strength.
On the left is 18 carat gold with green and black ink.